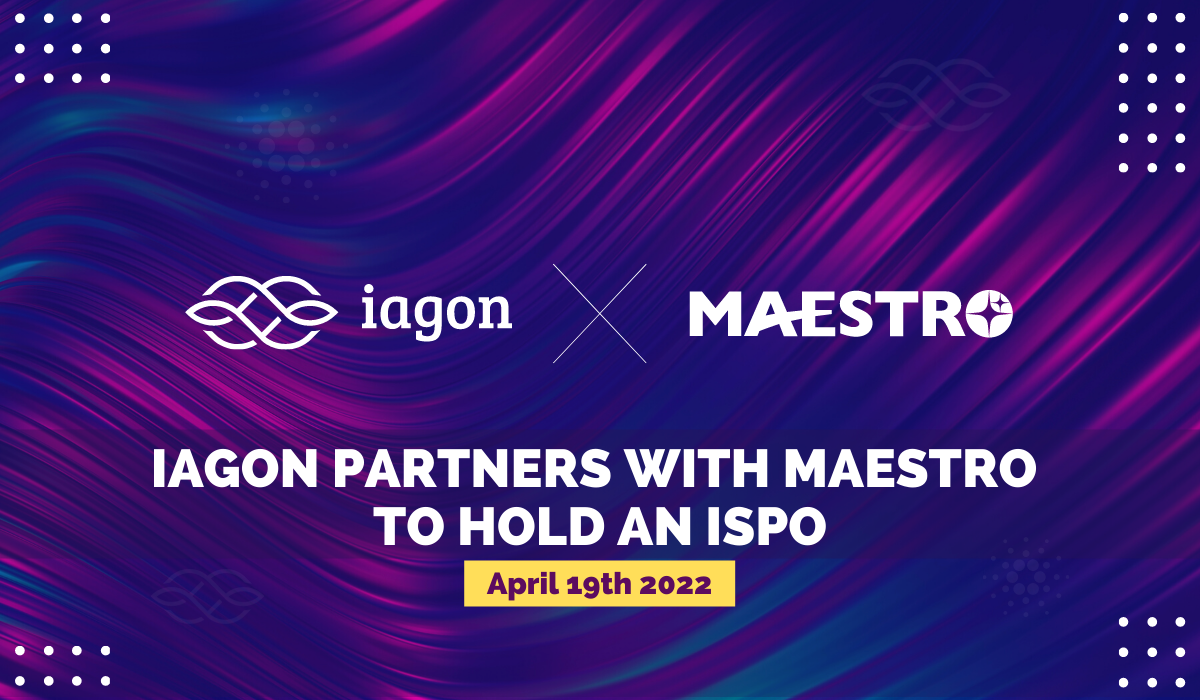 Iagon partners with Maestro to hold an ISPO
We are excited to announce that Maestro is going to be our partner to launch the ISPO on April 19th 2022, before the start of epoch 334.
Iagon's ISPO will run until the rewards supply is exhausted. It will begin with a single stake pool, using ticker IAG1 and a 100% margin fee, similar to all major ISPOs in Cardano.
Throughout the duration the ISPO, Iagon will allocate 70M $IAG tokens to delegators with a conversion rate of 0.02 $IAG per 1 ADA staked. Prospective delegators can find the IAG1 pool in all popular wallets and pool listing sites.
Pool ID: a790a551d217bafb8548f2e92f20b56b63980d5a320af1cc65402328
As Iagon's ISPO grows in popularity and support, Maestro will provision additional pools and open the door to more delegators. Iagon will also offer a loyalty program that they will announce in the next few days.
The delegator rewards will be distributed after the ISPO is completed with 10% after the ISPO ends and the remaining over the following 12 months.
As a reminder, initial stake pool offerings (ISPOs) are a new fundraising mechanism that allow stake pool delegators to divert staking rewards towards a project of their choice and receive project tokens in return. This mechanism allows the community to support their favorite project without spending their own assets by leveraging the network's staking reward structure.
What is Maestro?
Maestro is a PaaS (platform-as-a-service) company that aims to power Cardano dApps through turnkey infrastructure solutions starting with ISPOs. For stake pool delegators, Maestro offers an ISPO Marketplace that lets the community explore current and upcoming ISPOs, and discover top new DeFi projects on Cardano. The Maestro dashboard will provide a detailed overview of each ISPO to help the community learn about projects and decide where to best delegate their ADA. For Cardano projects, Maestro will help them launch full-scale, multi-pool ISPOs with minimal time and effort.
Website | Twitter | Telegram | Discord
What is Iagon?
Iagon aims at making it easy for everyone to contribute to the decentralized cloud storage network and earn from it. Iagon connects resource providers with cloud storage customers powered by a network of nodes. Anyone who provides storage capacity in the marketplace is a resource provider, be it a data center or a private user with spare storage space. Anyone will be able to use our open source software to create nodes on our network. Initially, Iagon is focusing on enterprise grade resource providers and trusted nodes. Iagon uses stablecoins as a default means of payment to trade storage between storage providers and consumers.

The process is simple. Once you upload a file, it gets encrypted in line with the strongest encryption standard. That makes it practically unbreakable with current computing power. The encrypted file is then encoded with an error correction code (ECC) and split into small segments to enhance data security and availability. The shards are distributed to numerous places across the Iagon's decentralized network, based on criteria specified by the user. Iagon leverages blockchain technology and builds on Cardano, so users can secure their subscriptions and file access settings with minted NFT. No one has control over users' private data, not even Iagon or any government.
Website | Twitter | Telegram | Blog | CoinGecko | CoinMarketCap

Join the newsletter to receive the latest updates in your inbox.