Amazing $500 000 USD Airdrop for Everyone
There's a saying that says everything sprouts in spring and this is also true for our IAG tokens. We're excited to announce that the IAGON AirDrop starts on March 15th, ending on March 25th!
AirDrop participation will remain open for 10 days only! Don't miss your chance to join.
We've allocated 4,166,700 IAG tokens (which is over 500,000 USD as the value of IAG token is based on 0.12 USD) for a maximum of 41.500 users, so join the wave of the future before it's too late and reserve yourself 100 IAG tokens!
The only thing that you have to do is to sign up on our platform and join the IAGON Telegram group.
How to join?
Sign in on the IAGON website
Join the official Telegram group
Submit your username(s) in a Google form (email used to sign-up on our website, telegram username and ERC-20 or ERC223 wallet address). The wallet address should not be from an exchange.
All eligible winners will be notified by email. The Airdrop token distribution is after The General Token Sale which begins July 7th, 2018, lasting for 30–60 days, depending on the sale.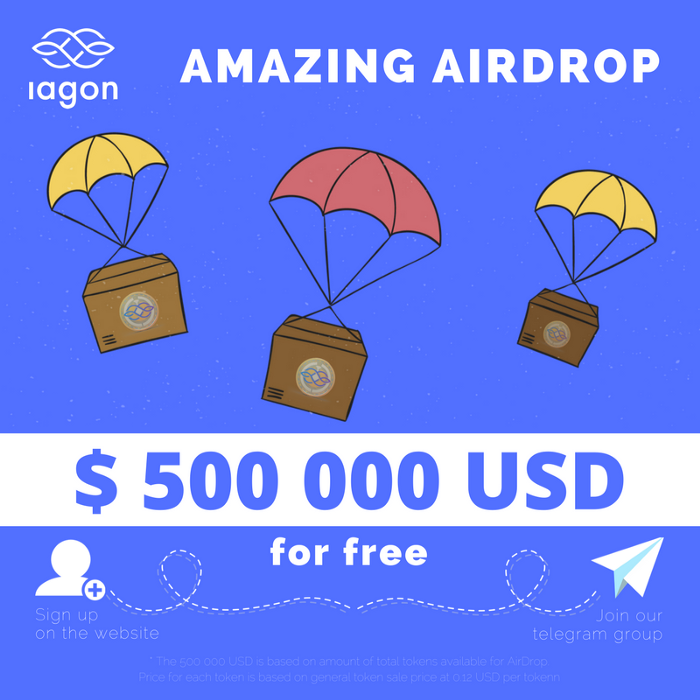 If you have any questions regarding our AirDrop or IAGON project join our Telegram group where we'll be more than happy to answer any of your question.
Follow us on social media platforms:
Join the newsletter to receive the latest updates in your inbox.