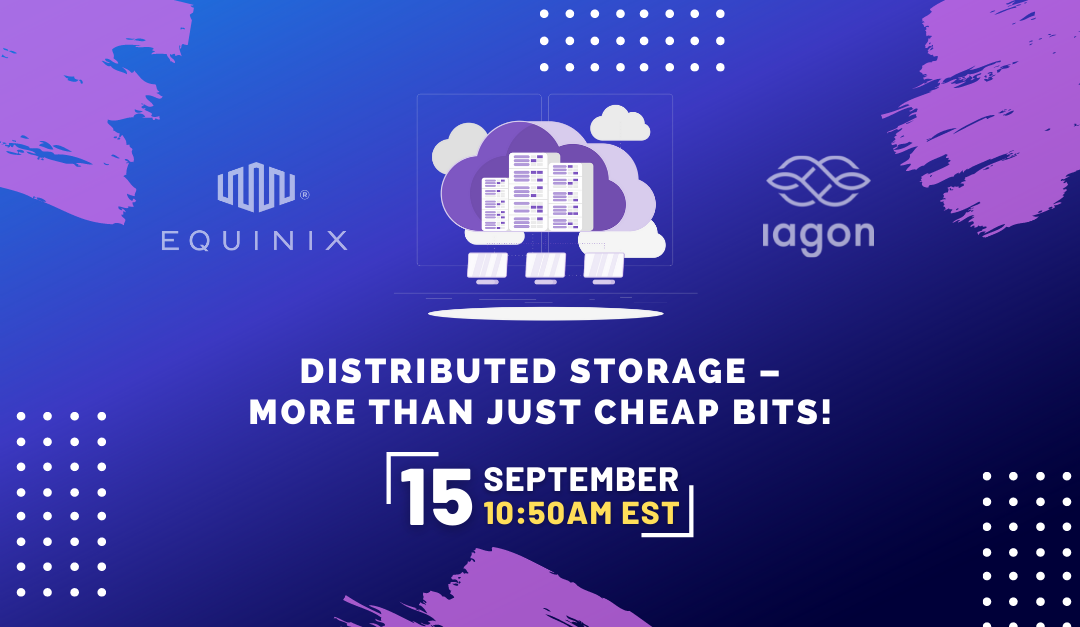 Distributed Storage – More Than Just Cheap Bits! — Equinix Metal Event
We are proud to announce that Iagon will participate in a significant panel event for the decentralized storage domain, perhaps the first of its kind at this level!
"Distributed Storage – More Than Just Cheap Bits!" will be streamed live on Wednesday, the 15th of September, at 10:50, am EST. We will share a link to the event via social media and our Telegram channel closer to the date of the event.
The game-changers of storage, Protocol Labs, Wasabi, Filebase and Iagon, represent the decentralized storage industry. Iagon will be hosting the event in collaboration with Equinix. Representing these companies will be Stefaan Vervaet from Protocol Labs, a company working together with FileCoin. From Wasabi, SVP for Products, Jim Donovan. Filebase will be represented by Co-Founder and CEO, Josh Noble. On the digital stage for Iagon, will be co-founder Dr. Rohit Gupta. Moderating the event will be David Garner, Communications Officer at Iagon.

"We are excited about this event, as it will give us a chance to talk and debate about the ownership of data alongside our fellow industry makers." - Dr Navjit Dhaliwal
A topic that is important to discuss as an industry, but more importantly for us, is to share insights with you, the users. It is, after all, about you and the security of your data.
The event is by Equinix Metal, part of Equinix, a Californian based global company and one of the worlds largest digital infrastructure companies, with over 220 data centres spread across 60+ markets all over the globe.
Equinix Metal is the bare metal service provider part of Equinix. Metal means that they provide automated provisioning physical infrastructure at software speed on the cloud.
They're just keeping the digital world together.
Equinix & Iagon are producing this event to show the growth in maturity of decentralized storage and how it can be a vital part of the digital world.
Please join the community and enjoy Iagon, and I am sure the other participants are very grateful for Equinix Metal's opportunity.
Link to the event via Equinix Metals website: https://metal.equinix.com/events/blockchain/
Join the newsletter to receive the latest updates in your inbox.