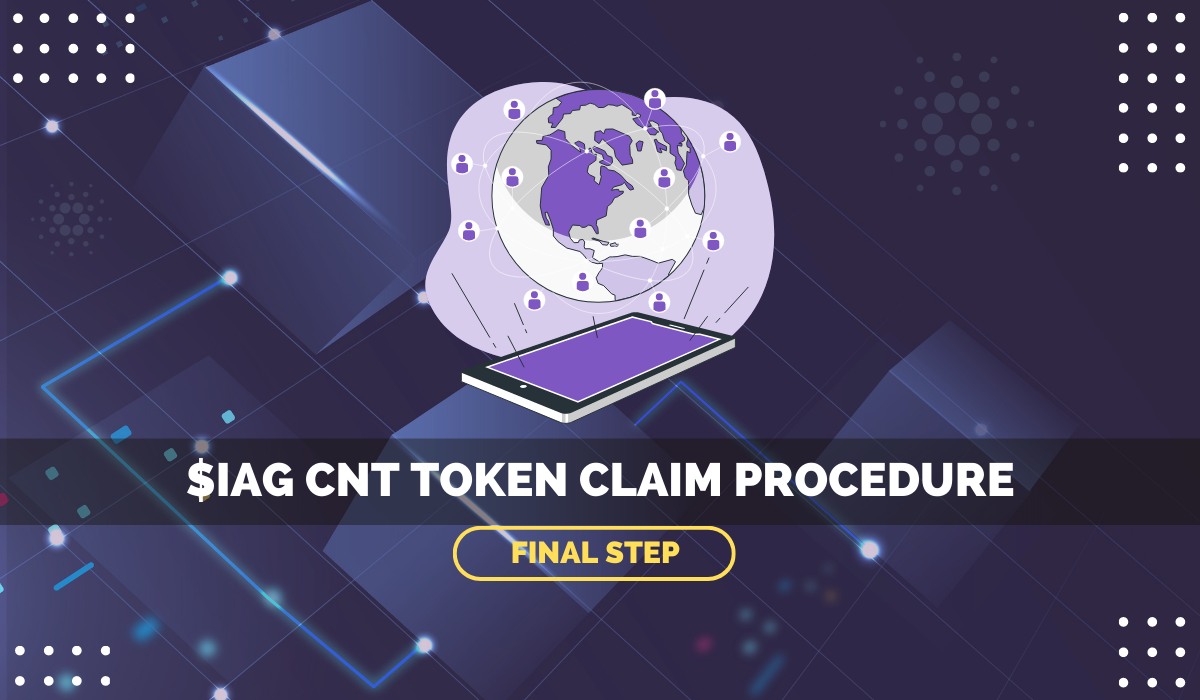 $IAG CNT Token Claim Procedure: Final Step
Our Cardano target is at arm's length, but the last push must be made together.
As we already announced, Iagon launched a special CNT claim procedure area for the people in possession of ERC-20 $IAG tokens. You can dive deep into this topic in 'Iagon's going full Cardano' article on our blog.
We're so close to our goal to become 100% Cardano-native and only the final step left. Firstly, we are very grateful to our holders and the community for your patience and support. The last step is related to legal and accounting aspects. It requires some actions on both sides.
What requirements do you need to follow?
After lengthy consultations with lawyers and accountants, be sure it's always hard to talk with these guys, we are forced to inform our investors that they will be required to send their $IAG ERC20 tokens back before the airdrop of CNT native ones. This is to keep the books clean and be transparent in legal matters.
We know that this creates certain inconveniences for you. But we also kindly ask our valuable community to understand the team in our approach to follow all regulation frameworks. We believe that together we can take that last step in our transition to Cardano.
What is the action plan to get your CNT Tokens?
We received a batch of requests from investors through https://claim.iagon.com/ for CNT token claim. Our team checked and collected them into the public spreadsheet.
UPDATE:
With a remarkable increase in swap requests, we're introducing a monthly swap limit of 500,000 IAG, starting July 1st, 2023. It's important to understand that this limit is applied to the total swapping volume collectively, not individually.
Up until then, we've happily provided unlimited swapping opportunities since our token bridge launch on May 25th, 2022.
So, let's move to the next you should follow in detail:

1. Please, check your request in the public spreadsheet
2. If everything is ok -> skip this step and go to 3.
If you see any discrepancy with your submission (calculations, wrong numbers, no entry or anything else) - you should email us to support@iagon.com with details to confirm your submission.

In case, you have ERC-20 tokens and didn't claim you request, feel free to claim it at https://claim.iagon.com/
3. Then everything is confirmed you need to send ERC20 tokens back to our official Ethereum address
Ethereum wallet address is 0x707c05618b4ed6535af08995A4EEC212999d06a9
If you have pending tokens through the first swap from IAG v1 to v2, you should send us tokens that you have already received in your Ethereum wallet at that moment. You'll receive them and the rest of the $IAG tokens as CNT native  in your mentioned cardano wallet.
4. Then the transaction is completed, we will start CNT tokens transfers to your Cardano wallets mentioned above in the request database.
Any actions needed for the crypto exchanges tokens?

$IAG token is CNT native only on Gate and Bitrue. It means we swapped ERC20 tokens to CNT ones for all valid holders. No actions needed and you are in a good shape.
---
For more information and other updates, please follow us on our social media (links below), or head over to the IAGON Website
Join the newsletter to receive the latest updates in your inbox.