IAGON Community Update Newsletter April'20
Today in turbulent times of coronavirus pandemic, that affected all spheres of our life. We are keeping our track forward in terms of IAGON development.
Decentralized Cloud Platform Launch
In March 2020, we announced a big step — the launch of our first-ever easy to use decentralized cloud platform. You can try IAGON's Platform on our official website https://iagon.com.
We get a lot of feedback from our valuable community. Thanks for that. Our main goal is to make the platform super functional but at the same time understandable and easy to use.
Next Token Distribution
As our community correctly noted, we have reached a significant milestone for the project — by launching the platform. Therefore, in the near future, we plan to hold the next round of token distribution, according to our plan.
Today, our team is developing a mechanism and total amount for this distribution, and soon we will be able to announce it for all our valuable holders. Please stay tuned with us!
Further Development Roadmap Steps
Despite the fact that the pandemic has made adjustments to the work plans, our team continues to work hard on the development of the platform.
Currently, we have implemented a lot of features but there are some priorities on the list:
Payout in IAG
Miner Referral system
Miner Calculator system
API Features Development
Vault features
UI/UX Design Improvement
Bug fixing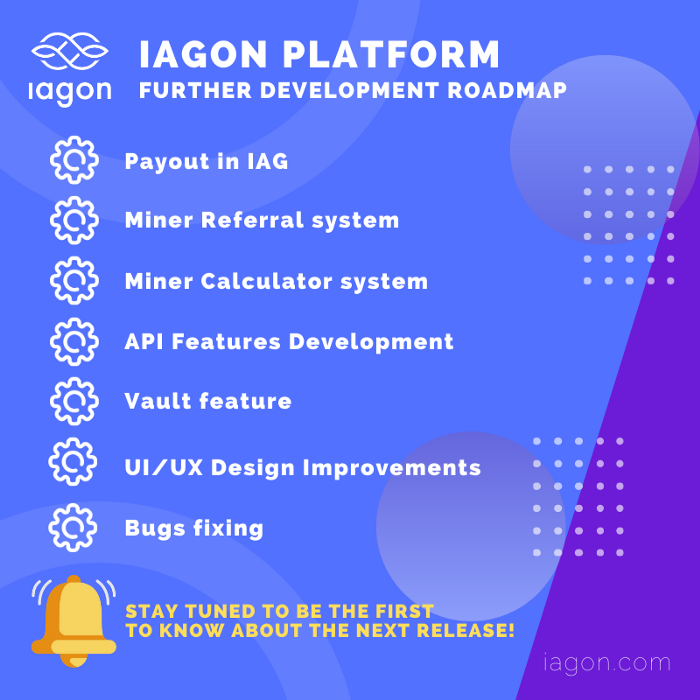 We are going strictly according to our roadmap, so please stay tuned with our updates with all the innovations and improvements.
For more information and to see what else is going on with IAGON, please follow us at the social media links below, or head over to the IAGON Website!
Facebook, LinkedIn, Reddit , Bitcointalk, Twitter, Telegram, Youtube, Medium
Join the newsletter to receive the latest updates in your inbox.