IAGON Platform Shines at ICO QATAR
This year has opened several doors and presented endless opportunities for the IAGON team as we forge ahead and break barriers with our revolutionary platform. Although our project is off to an incredible start, we continue to work towards positioning ourselves globally and are honored and thankful for every chance that we have to present our platform to the world.
On May 14th, 2018, we had the opportunity to do just that as we presented the IAGON platform during one of Qatar's first ICO conferences, which was located in Doha.
The invitation-only, ICO Qatar Conference event hosted a panel of nine speakers and showcased seven amazingly innovative projects, including IAGON. During our time at the conference, we had the chance to reveal the overall vision behind the IAGON platform, while also connecting with thought leaders from across the globe, creating bonds and building bridges that will aid us all in the global expansion of our respective brands.
During ICO QATAR, visitors and participants took part in a Q&A session that led to in depth conversations and straightforward feedback regarding the IAGON project and the other projects that were being showcased at the time. This portion of the conference was vital to the future growth and development of these cutting edge technologies because, not only did it provide a network of Industry peers that are willing to assist in the process, but it also allows us to listen to our potential users and make changes to enhance the usability of our platform, to fit the needs that we may have otherwise overlooked.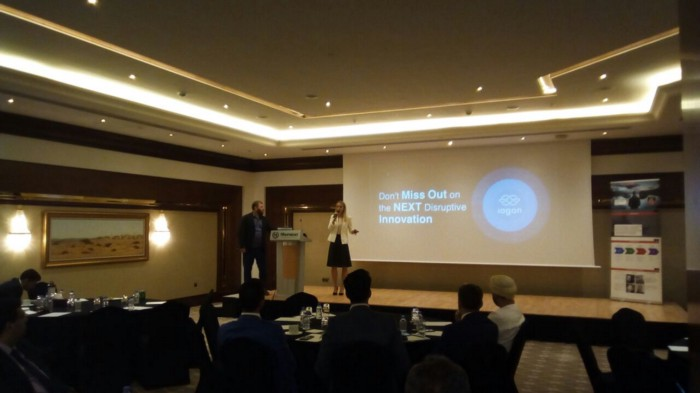 Overall, ICO QATAR was a success and, although the exact number of investors has yet to be determined, we did manage to make a bevy of new professional connections, while securing a meeting at the Qatar Financial Center (QFC), where we spoke with one of their representatives about the potential for future collaborations. Moreover, through our networking efforts, we were able to connect with a few additional investors, enthusiasts and other like minded individuals that see this technology as being on the precipice of revolutionary change. Included in our newly minted relationships is a Qatari investor, interested and ready to learn more about what we have to offer, as well as a couple of individuals that are interested in becoming a part of AGON's initial adopter program.
As IAGON continues to grow, we will continue to present our groundbreaking platform to the world, revealing updates and events to our community, as they take place.
For more information and to see what else is going on @ IAGON, please follow us at the social media links below, or head over to the IAGON Website!
Facebook, Instagram, LinkedIn, Steemit, Reddit
Bitcointalk, Twitter, Telegram, Youtube, Medium, Github
Join the newsletter to receive the latest updates in your inbox.