IAGON vs. Ankr: who is truly a leader in development?
There are a lot of discussions about what project, in terms of development, is ahead in its sector. At the same time, estimates are not always objective and based on real facts.
We just want to show how things really are, but its the community's right to decide what is the best and who is better.
Ankr Dashboard
Recently developed and presented to the public.
The Dashboard is the landing page that a user sees after they log in to Ankr's DCCN. This page/section displays useful summaries relevant to each user. The top part is the status of the data centers and the bottom section shows the utilization by the current user.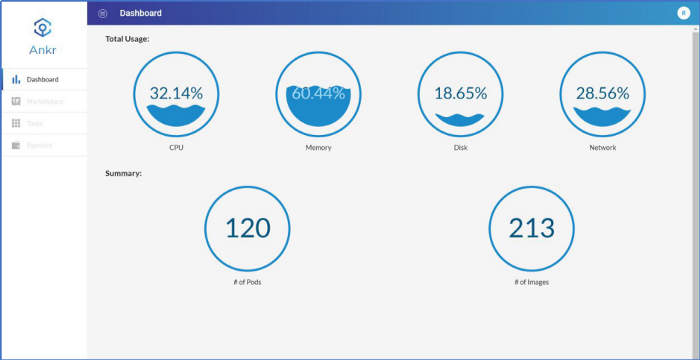 IAGON Dashboard
Developed and released in July 2018
IAGON Dashboard is developed with the improved UI/UX. It has a great user-friendly interface, that shows you any needed information in real time and with any details you need.
Who did it better on your opinion?
Please share your opinion in our Telegram group or by email contact@iagon.com
Features
IAGON is a Global Supercomputer, powered by Artificial Intelligence & Blockchain Technology, that aims to revolutionize the cloud and web services market by offering a decentralized grid for storage and processing tasks. The IAGON MVP already can provide distributed storage between online users and storage nodes(miners). When using IAGON's Platform and Grid, users can upload files, while miner software (desktop application) is used to control localized storage and serves as a node on the network.
It has implemented UI/UX design and really user-friendly interface. IAGON is on the plan to release the fully-worked product according to its roadmap in Q1 2019.
Just remember, that Rome was not built in one day, and great technologies are not going to be built in the overnight hours either. Immediate gratification is your biggest enemy in the realm of tech, and that is why you've got to take the good, with the bad.
We do not undertake to say what the project is better at that moment. That's up to you to decide. We appreciate our community's support and urge you to evaluate projects not by the number of media mentions, but by how they work and developing.
For more information and to see what else is going on with IAGON, please follow us at the social media links below, or head over to the IAGON Website!
Facebook, Instagram, LinkedIn, Steemit, Reddit Bitcointalk, Twitter, Telegram, Youtube, Medium, Github
Join the newsletter to receive the latest updates in your inbox.