Today, we are pleased to announce an exciting competition for our valued supporters and community members. With the Pre-Sale underway and going strong, we are looking to keep our community members closely involved in the development of the IAGON project, which brings us to the competition at hand and a chance for you to solidify a significant position in the history of IAGON.
The IAGON AI Protocol is based on and derived from scores that are given to the miners based on their gpu, cpu and storage capabilities. These scores are all given names (ex: dragonchain slumber score) and we would love for our community members to be involved in the naming of the IAGON score. This is a chance for the individuals that support our project to voice their thoughts and opinions, lending their ideas for a chance to name our score.
This community competition will be held solely on Facebook, so if you have yet to join the IAGON facebook group, please do so in order to engage with the team and participate in the competition. This competition will take place in two rounds, with the 1st, 2nd and 3rd place winners being announced at the end of round two.
Here's how to go about participating in Round 1 of the Naming Competition:
Like the IAGON Facebook Page
Like the IAGON Legacy Competition Post
Comment your Name Suggestion on the 'Legacy Competition' Post
(Remember to invite your friends and family members to Like your Comment in order to cast their vote!)
Share IAGON's Facebook Post
The top 5 name suggestions will be decided upon the closing of Round 1 on April 7th, 2018 and will advance on to Round 2 of the contest which will be conducted as a community member poll, allowing members to participate by voting on whichever of the 5 names that they like the most. Round 2 will begin on Monday, April 9th and will run through Wednesday, April 11th, 2018.
Once Round 2 has concluded, winners will be assessed and distributed tokens as a show of our gratitude, with 1st place receiving 12,500 tokens, 2nd receiving 6,250 tokens and 3rd place getting 3,333 IAGON tokens. Additionally, the winners will be announced across all of our social media platforms and in a Medium article as well.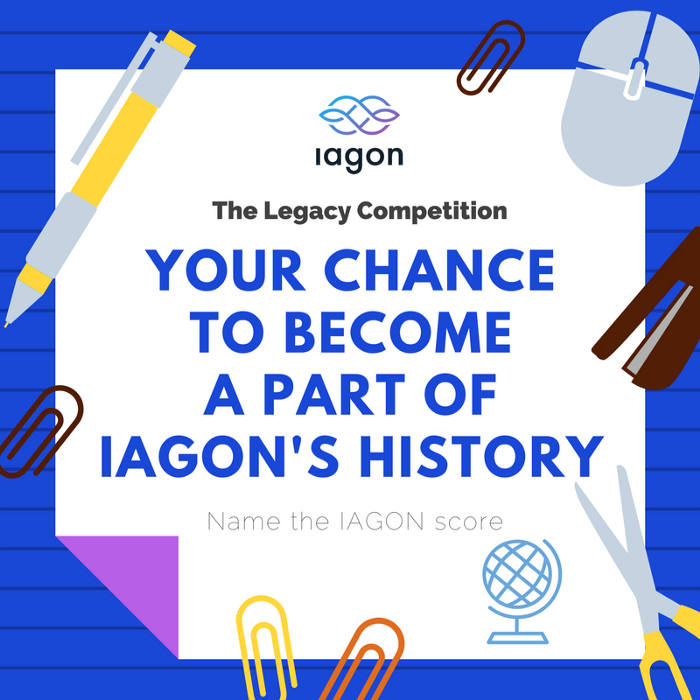 Good Luck!
Join the newsletter to receive the latest updates in your inbox.