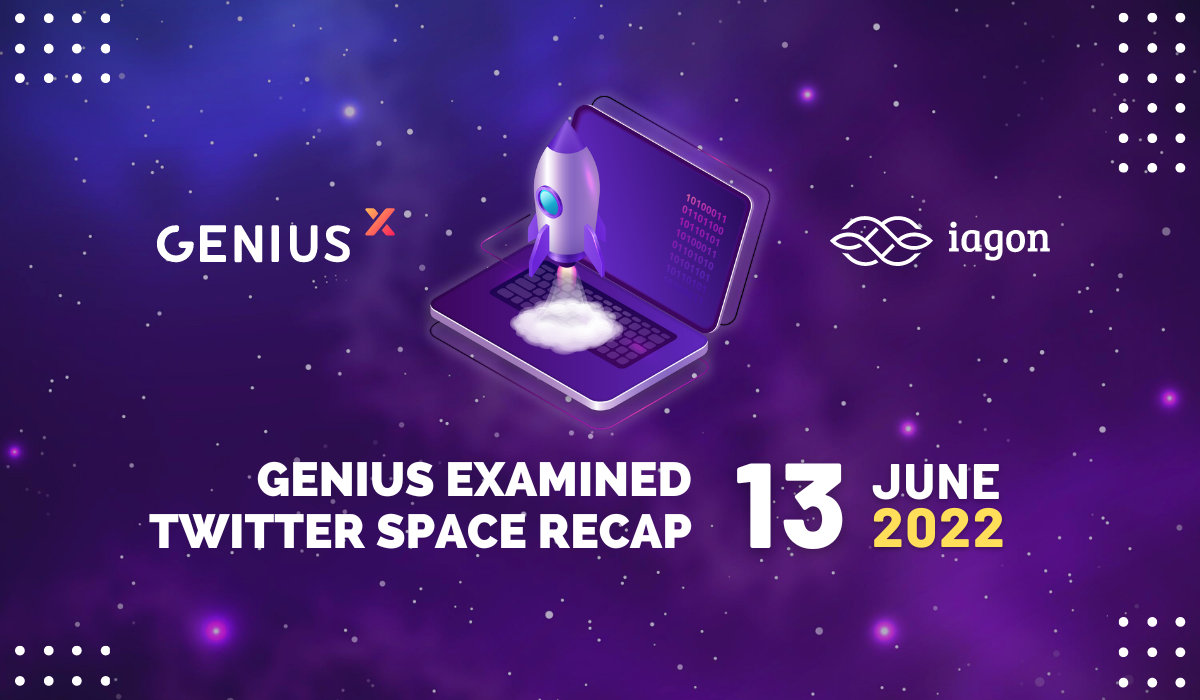 Genius eXamined Twitter Space Recap
We were happy to be guests on the fourth episode of "Genius eXamined" twitter space.
On June 13th, 2022, Navjit Dhaliwal, CEO at Iagon, and Gino Paul D'paola, our Data Protection Officer, were excited to join the "Genius eXamined" Twitter space intending to share the latest updates and answer all project-related questions from the Genius X community.
If you missed the live event, feel free to listen to the recording on Twitter.
Don't miss the fourth episode of "Genius eXamined" the Genius X Twitter Space.

For the fourth episode of "Genius eXamined" we are please to host the team from @IagonOfficial !

please join us on June 13th, Monday at 3PM UTC.https://t.co/GpW7b1JU9L

Set a reminder! ⏰ 🚀 pic.twitter.com/2oeN7fhCjm

— Genius X official (@OfficialGeniusx) June 9, 2022
Just some highlights
Gino talked about the GDPR topic and why it's so important because it touches every single round and every single business nowadays;
It was discussed challenges that businesses can have with the processing of user data and following the legal framework nowadays;
You can learn why the product we are developing at the moment is significantly focusing on data protection, compliance, and GDPR.
Learn what has inspired Gino to join our Iagon and how he supports our mission;
Navjit shared Iagon's vision on why we decided to migrate to Cardano, what benefits we see and how it will help us on the way to mass adoption;
Get updated on the most recent developments and Catalyst proposals we are preparing soon, then will be shared for community feedback;
Iagon team disclosed information about several pilot projects with clients we are working with;
Check some updates about upcoming testing iterations with our platform for our Tester Program participants;
Listen to the Twitter space to hear about the barrier approach we plan to have for resource providers;
Get an overview of our ISPO and rewards you can get from the delegation to the pools IAG1 or GENS2;
Learn some insights about IAG token economy and utility;
Did you know that any project or business will be able to save their budget for cloud computing by using Iagon?
Just listen to this twitter space to learn what makes Iagon different from other decentralized cloud storage platforms;
We are building the Cardano ecosystem with our partners.
---
Please follow us our social media and feel free to drop any questions you may have about the project directly in the telegram group. Our team is always open to discussions.
Join the newsletter to receive the latest updates in your inbox.