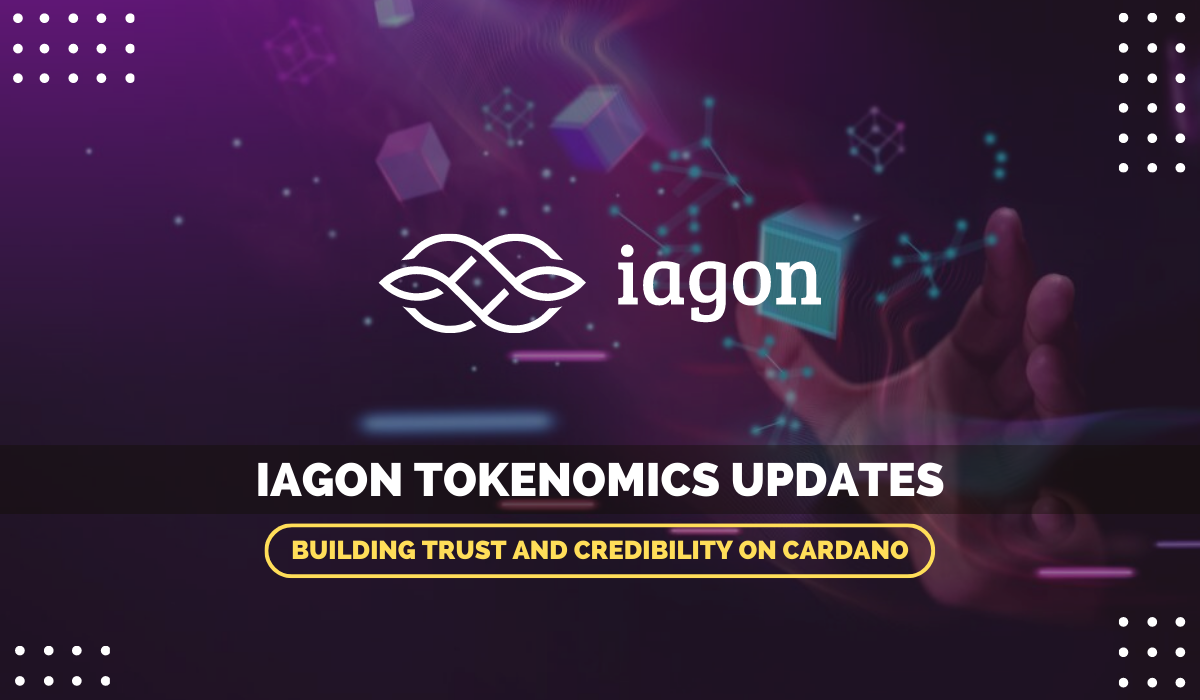 Iagon Tokenomics Updates: Building Trust and Credibility on Cardano
We are committed to constructing a transparent system for our tokenomics that is fully accessible to our community.
Iagon, the decentralized cloud computing platform, is proud to announce its migration to the Cardano network and the subsequent discontinuation of its ERC-20 tokens. The move is part of our commitment to contribute to the Cardano community and build more trust and credibility.
100% on Cardano and Transparency
Since our migration to Cardano, our tokens are valid only on the Cardano network. We have discontinued the use of our ERC-20 tokens as they no longer serve any purpose.
We believe that Cardano's superior technology, sustainable design, and focus on transparency and accountability make it the perfect platform for Iagon to achieve its long-term goals. We are committed to building a robust ecosystem on Cardano that benefits our users, developers, and partners.
$IAG POLICY ID (CNT) - 5d16cc1a177b5d9ba9cfa9793b07e60f1fb70fea1f8aef064415d114
Cardanoscan: https://cardanoscan.io/token/5d16cc1a177b5d9ba9cfa9793b07e60f1fb70fea1f8aef064415d114494147

Track Any Move on Chain
To ensure transparency and accountability, we have partnered with ADA handle and reserved several wallets for our tokens based on the purpose of use according to the Tokenomics.
This allows you to track any move of IAG tokens on chain and provide our users with accurate and up-to-date information. We believe that transparency is essential to building trust and credibility, and we are committed to providing our users with the information they need to make informed decisions.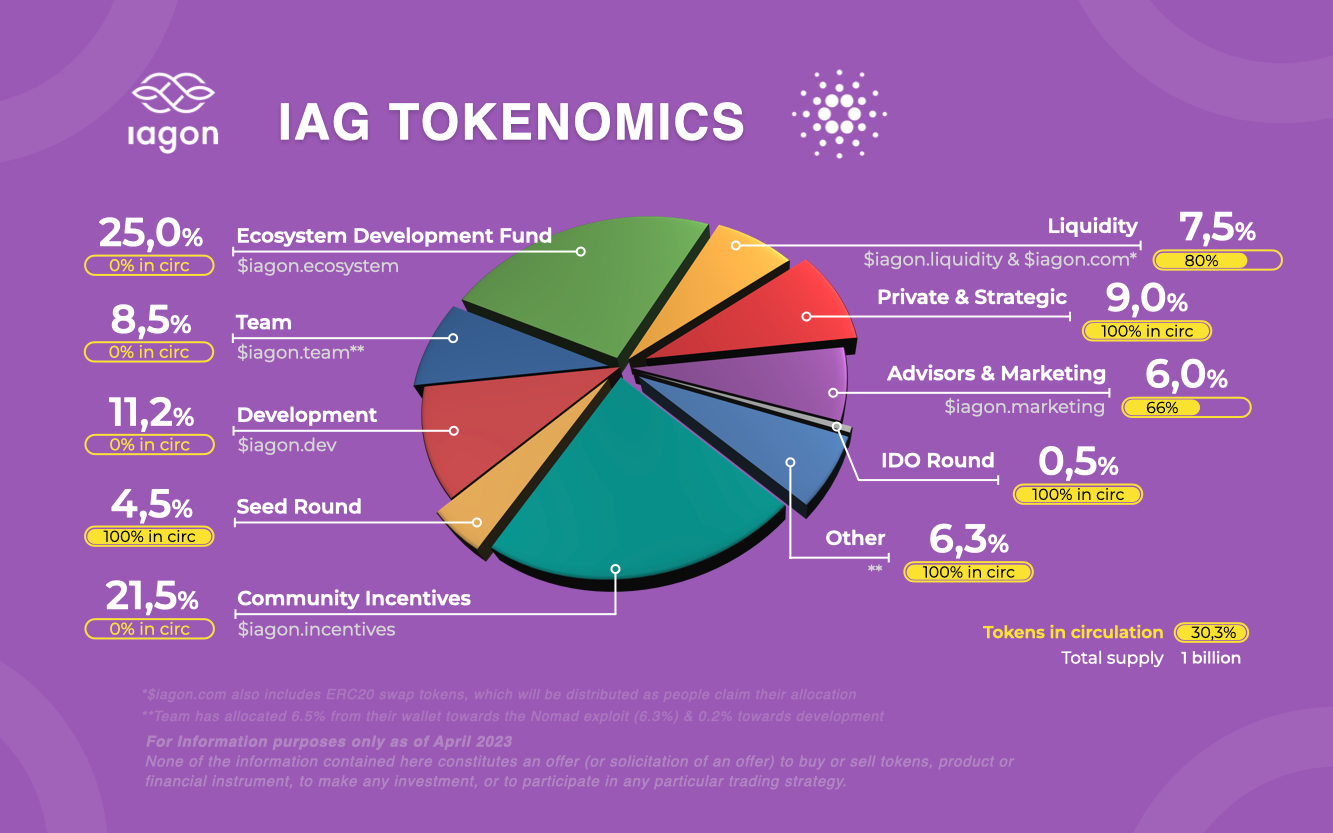 According to our Tokenomics we have such specific wallets:
Ecosystem Development Fund - 250mln $IAG ($iagon.ecosystem)
This wallet is intended to be used for the development of Iagon's shared economy ecosystem, with 250 million $IAG allocated for this purpose. Initial plan was linear unlocking until mid-2024.  We will update this when product is planned for launch in Q3
Community Incentives - 215mln $IAG ($iagon.incentives)
We have allocated 215 million $IAG tokens for various community-building incentives. . Initial plan was linear unlocking until mid-2024.  We will update this when product is planned for launch in Q3  
Development - 112mln $IAG ($iagon.dev)
The purpose of this wallet is to provide resources for the project's ongoing development, and we are using it with utmost care and consideration for economic efficiency. A total of 112 million tokens have been allocated for this purpose, and we are committed to ensuring that they are utilized in a manner that maximizes their potential to contribute to the project's success. 2 million was added from team allocation.
Marketing & Advisors - 60mln $IAG  (20 mln left in $iagon.marketing)
The designated amount of tokens is intended for marketing activities, however, our approach is to prioritize the development and release of the product before allocating a significant portion of these tokens towards marketing efforts. While we recognize the importance of marketing in promoting our product, we believe that our tactics will be more effective once the product is available for use. Rest assured that we have a solid marketing plan in place, and we are looking forward to executing it after the product is released.
Team - 85mln $IAG  ($iagon.team)
This wallet contains tokens allocated for team members, which are still locked. It is worth noting that the team made a sacrifice of 63 million tokens from this wallet in order to address the Nomad bridge leak situation. While this was a difficult decision to make, we felt it was necessary to keep the trust and credibility from our community.
It's worth it to mention that the team tokens will continue to be locked for additional 18 months.
Liquidity & Tokens for ERC20 Swap ($iagon.com)
A specific wallet that is dedicated to liquidity allocation and a batch of tokens reserved for ERC20 token swap transactions. This process is still ongoing and has yet to be completed.
Also, it's important to note that all other amounts of tokens are on the free market, meaning that they are available for trading and exchange. Additionally, any transaction related to these tokens can be easily tracked and verified using the Cardano explorer.
As part of our commitment to transparency and accountability, we encourage our community to keep track of these transactions and to reach out to us with any questions or concerns they may have. We believe that this level of transparency is essential in building trust and confidence in our project, and we remain committed to upholding these values in all of our actions.
What's Next on The Plate
Our next move is to work with Coinmarketcap and CoinGecko teams to update data about our IAG token. We want to ensure that the data is accurate and up-to-date.
We also plan to get our circulation supply verified to provide further transparency and credibility. Please stay tuned for updates.
Save links to follow $IAG token updates and market data:
Summary
In summary, we are totally open and transparent with the community and continue to build in the bear market. We are grateful for the support of our token holders, and it means a lot to us. We believe that our move to Cardano will help us achieve our long-term goals and build a robust ecosystem that benefits everyone. We will continue to update our users on our progress and remain committed to transparency, accountability, and excellence.
---

For more information and other updates, please follow us on our social media (links below), or head over to the IAGON Website
Join the newsletter to receive the latest updates in your inbox.