How Bancor's Experience Differs
Earlier in the week, it was revealed that Israeli-based, decentralized cryptocurrency exchange — Bancor, was under attack in what proved to be a $13.5 million dollar heist. As reported by Cointelegraph, the individual's or individuals responsible for hacking into Bancors systems, managed to get away with about $12.5 million in pilfered Ethereum, while $1 million in Pundi X (NPXS) tokens were also stolen.
In this case, however, the hackers weren't successful in their attempt to keep an additional $10 million worth of Bancor (BNT) tokens, due to a proactive feature that was put in place to enable the freezing of the Bancor tokens, preventing any further damage from being done.
As seen below, in a statement released by Bancor on July 11th, 2018, the Bancor team clarified a few things for their community and the public in reference to a bit of misinformation that had been released by various outlets, ensuring their community that 'No customer wallets were compromised'.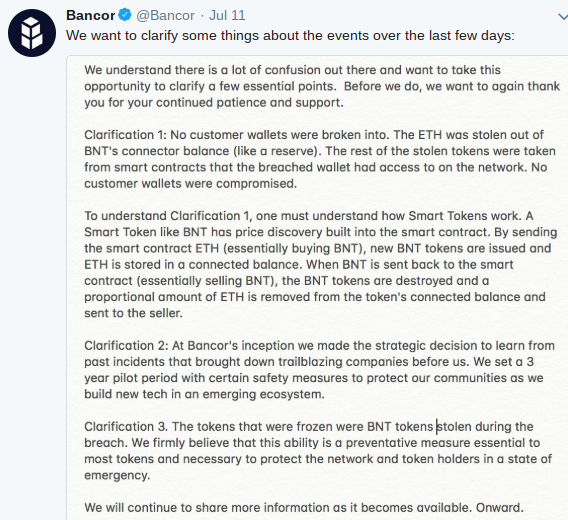 Although this is an undesired occurrence, it is still quite clear, by the modest numbers, that the decentralized exchanges provide greater security and peace of mind to their users than the market-dominating centralized options.
For more information and to see what else is going on @ IAGON, please follow us at the social media links below, or head over to the IAGON Website!
Facebook, Instagram, LinkedIn, Steemit, Reddit
Join the newsletter to receive the latest updates in your inbox.