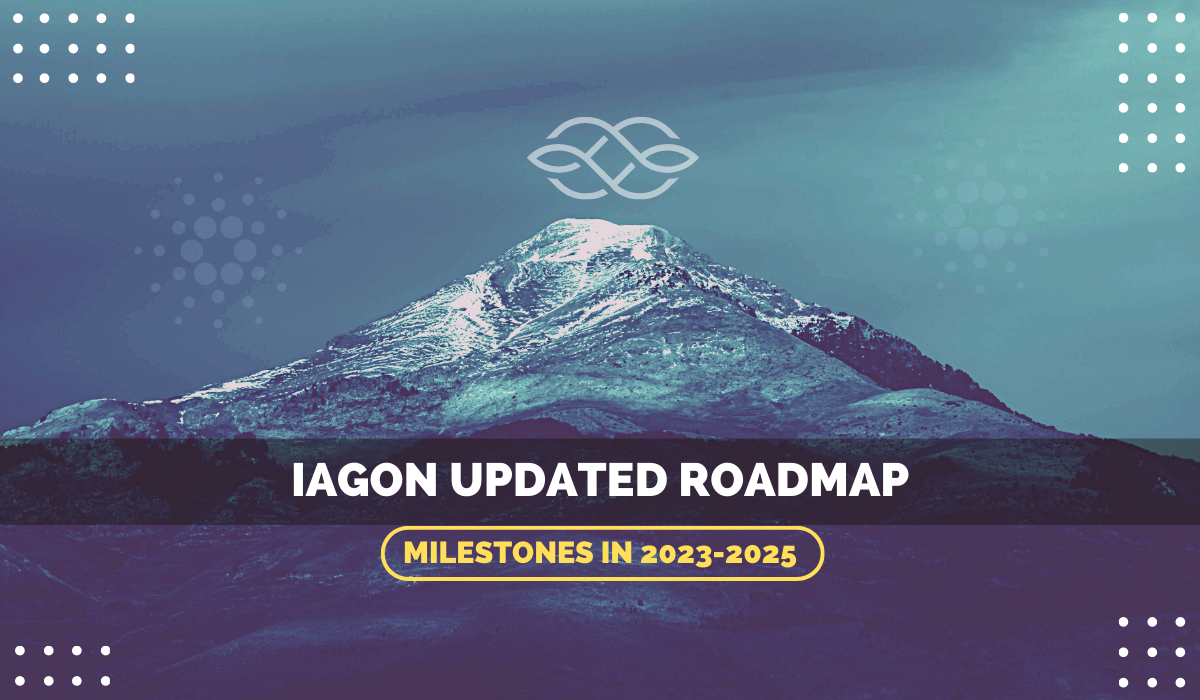 Iagon Updated Roadmap 2023-2025
Despite facing difficult times, we are persevering and relentlessly working towards our ambitious goals, buoyed by the unwavering support of our community and stakeholders.
As we march forward towards our mission, we want to express our gratitude to our community for their unwavering support. Your encouragement has been the fuel that has kept us going through challenging times.
Despite the obstacles, we have accomplished a lot in the past year, achieving significant traction and making great strides in our development. Now, we're fully migrated to Cardano and forging ahead with our next steps.
Our platform, with its basic features, was just the beginning. We're working tirelessly to make it even better and more powerful. With each passing day, we're getting closer to our goal of returning control of data and resources to the people.
Together, we'll take measured steps towards the future, always guided by the knowledge that our community has our back. We are excited about what's in store and can't wait to share it with you. Let's keep moving forward with confidence and determination!
Milestones achieved in 2022 (in short)
MVP Demo On Cardano Release
ISPO Holding in partership with Maestro
$IAG Token Migration to Cardano  
MVP Alpha Tests for Private Users - New UI
MVP Beta Test Release for Public Users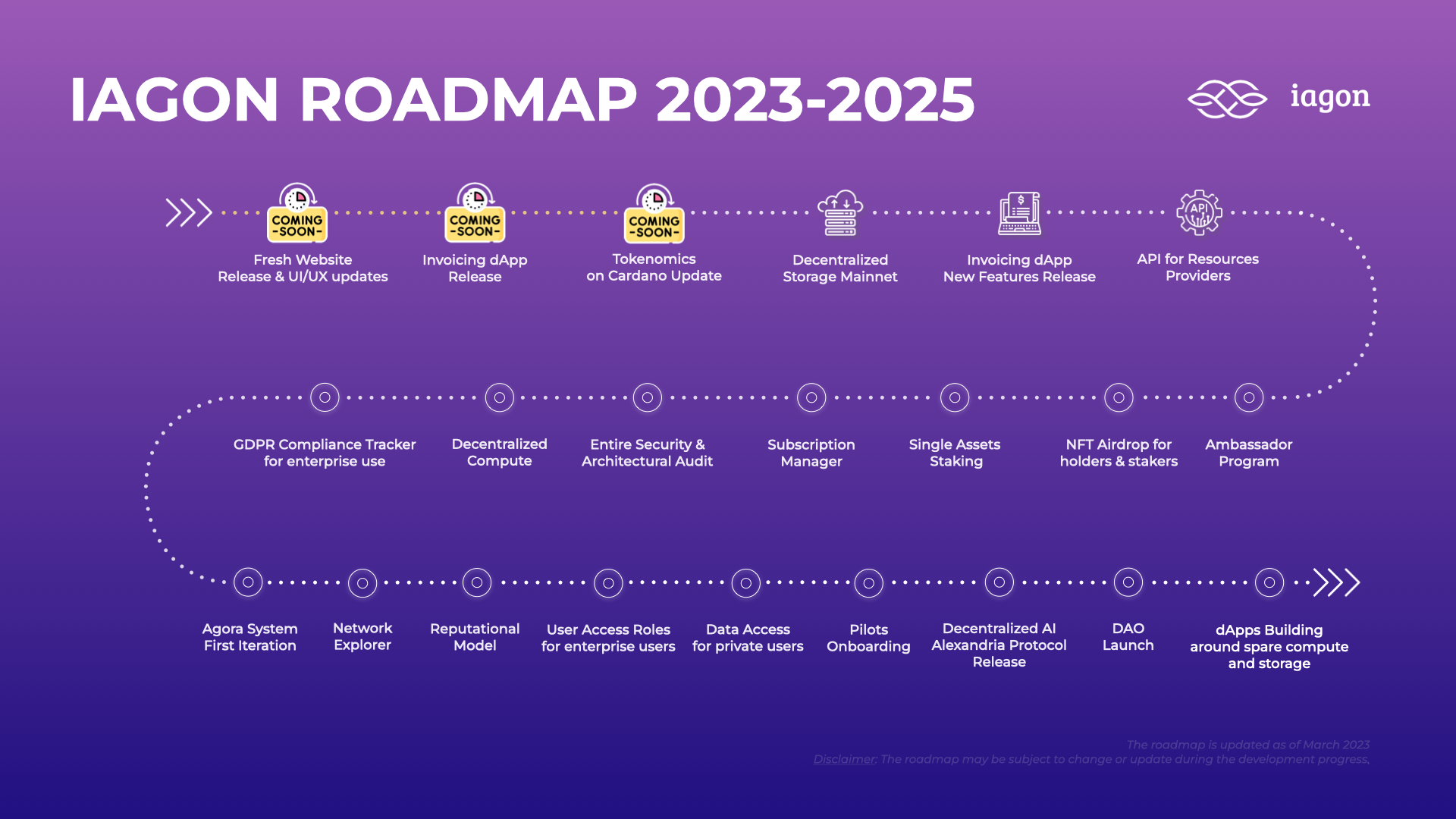 What's coming next
Fresh Website Release & Platform UI/UX updates
Invoicing dApp release
Tokenomics on Cardano update
🚀 Q2/Q3 '2023
Decentralized Storage Mainnet
Invoicing dApp New Features Release
🚀 Q3 '2023
API for Resources Providers
Ambassador Program Launch
NFT Airdrop for holders & stakers
(including ico, ispo, LP reward program participants)
🚀 Q3/Q4 '2023
Single Asset Staking
(shared revenue from protocol, fees collected from all use cases to be shared according to proportional amount of $IAG staked)
Subscription manager
🚀 Q4 '2023 / Q1 '2024
Entire Security & Architectural Audit
🚀 Year 2024
Decentralized Compute
GDPR Compliance Tracker for enterprise use
Agora System First Iteration
Reputational Model
User Access Roles for enterprise users
Data Access for private user
(enables full transparency of sensitive information to users)
Pilots Onboarding
🚀 Year 2025
Decentralized AI Alexandria Protocol Release
to manage and allocate spare resources
DAO Launch
dApps Building around spare compute and storage
---
Learn more about previous achievements: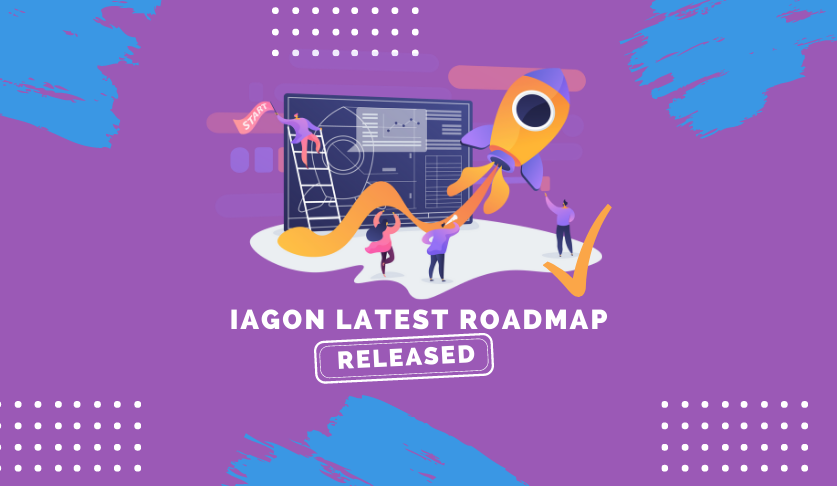 ---
Disclaimer:
The roadmap is updated as of March 2023.
The roadmap may be subject to change or update during the development progress.
Join the newsletter to receive the latest updates in your inbox.