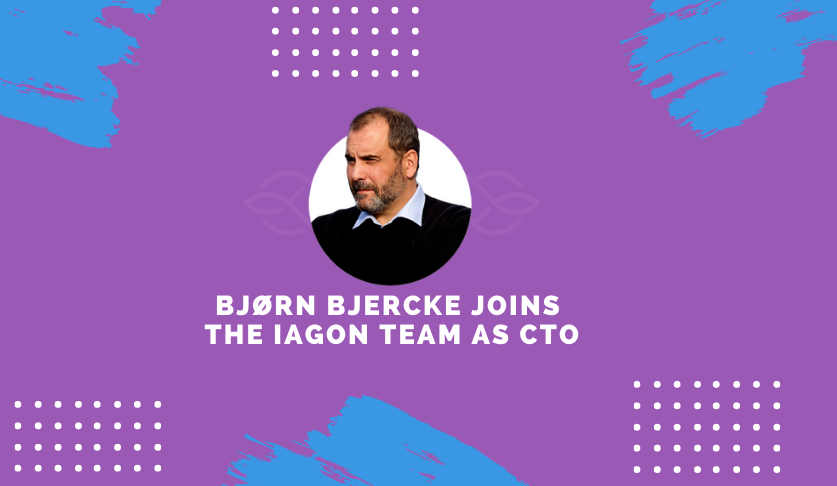 Bjørn Bjercke joins the IAGON team as CTO
Our team is happy to welcome an experienced IT infrastructure expert Bjørn Bjercke, ex-Blockchain lead, and Partner at EY Zürich, as the new CTO of IAGON.
Bjercke has solid knowledge of emerging trends and is at the forefront of blockchain and fin-tech. He plays a key role in how verifiable decentralized cryptographic secure technology will be exploited in Nordic and Central Europe.
Bjørn has vast experience of over 20 years in financial IT infrastructure. With the invention of blockchain, Bjørn was early to adapt to this technology.
He focuses on educating, advising and is devoted to teaching about verifiable decentralized cryptographically secure technology. Bjørn has produced numerous articles and has held several talks on the subject.
Bjørn is widely considered one of the world's foremost experts on verifiable, secure technology like Blockchain and tangled and layer 2 technology like Sharding, Lightning Network, and zk-SNARK, etc.
His valuable efforts in scam eradications in this space are also notable, having experience from the legal systems, financial authorities, and economic crime units around the world. Bjørns efforts are currently being documented for a TV series and documentaries. We should look forward to that.
"I believe Iagon has a strong foundation with limitless potential. Therefore I am quite excited and motivated to join this super knowledgeable team. The technology within Iagon is groundbreaking and nothing short of world-changing as we move towards the decentralized future. I wish to contribute with my knowledge and skills and hope the community response will be inspired to ask and push for more and help us to achieve our goals together. I strongly believe that this is not one man's journey but a community-driven, global, game-changer for all of us."

- Bjørn Bjercke -
"I was very skeptical at the technology of bitcoin in the beginning, like most were. The trust aspect worried me for good reason as I took up the fight against bad actors in this space. I challenge anyone to look up my track record and reputation to gain insight. My conclusion Is simple, democratic, decentralization, and transparency of all aspects is the key to successfully guard against misunderstandings and bad implementations. I will therefore invite and welcome suggestions from the community with open arms as I believe this is the right working model for a fair decentralized future." —note from CTO of IAGON.
As a CTO of IAGON, he will lead the teams and manage the operations in different sectors and will take full charge of a company's IT department and operations. We strongly believe that his vast experience in IT infrastructure building will help and proven expert knowledge of existing systems, will boost our technology adoption & further decentralized cloud computing development that scales at the speed of the future.
For more information and to see what else is going on with IAGON, please follow us at the social media links below, or head over to the IAGON Website!
Facebook, LinkedIn, Reddit, Twitter, Telegram
Join the newsletter to receive the latest updates in your inbox.