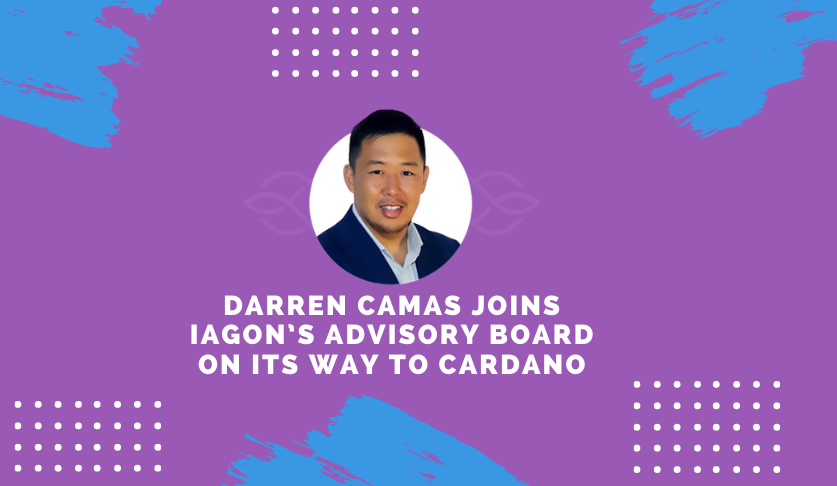 Darren Camas joins IAGON's advisory board on its way to Cardano
We are happy to announce that Blockchain industry veteran Darren Camas is joining our team to make IAGON's journey to Cardano more effective and profitable for everyone.
Darren Camas has been involved with crypto & Blockchain since 2011 advising, building, and investing in multiple projects. Currently, he is сo-founder and CEO of IPOR Labs. He is also the Co-founder of FoolFarm, the first AI venture builder in Europe.
Previously, he served as an advisor for the Cardano Blockchain with both IOG and Emurgo, headed business development for one of the first global crypto exchanges, and has been recognized for his FinTech startups by institutions such as SWIFT and BBVA. On the institutional investor side, he served as an advisor to Emurgo, the venture arm of Cardano, and is an angel investor in Blockchain startups. Originally from the US and currently residing in Europe, he has spent most of his professional career in emerging markets in Asia and Latin America.
"Cloud computing changed the cost structure and model of building systems and networks. IAGON's vision aligns with the decentralized ethos of creating a distributed market for computational and storage resources. The team also embraces the third way, where decentralization and regulation can be compatible.

The systems that will prevail in the end are the ones that embrace openness and decentralization while building in the tools that the end user can select for their particular use case and regulatory requirements, such as medical records and HIPAA compliance in the US, to personal data ownership with GDPR in the EU, or customer data transfer across borders."

- Darren Camas -
As a Business Advisor in IAGON, he will focus on project business integration into the Cardano ecosystem, taking into account all benefits of IAGON's solution and advantages of Cardano Blockchain. We have a great potential for fruitful cooperation. Keep moving forward.
For more information and to see what else is going on with IAGON, please follow us at the social media links below, or head over to the IAGON Website!

Facebook, LinkedIn, Reddit, Twitter, Telegram, Medium
Join the newsletter to receive the latest updates in your inbox.