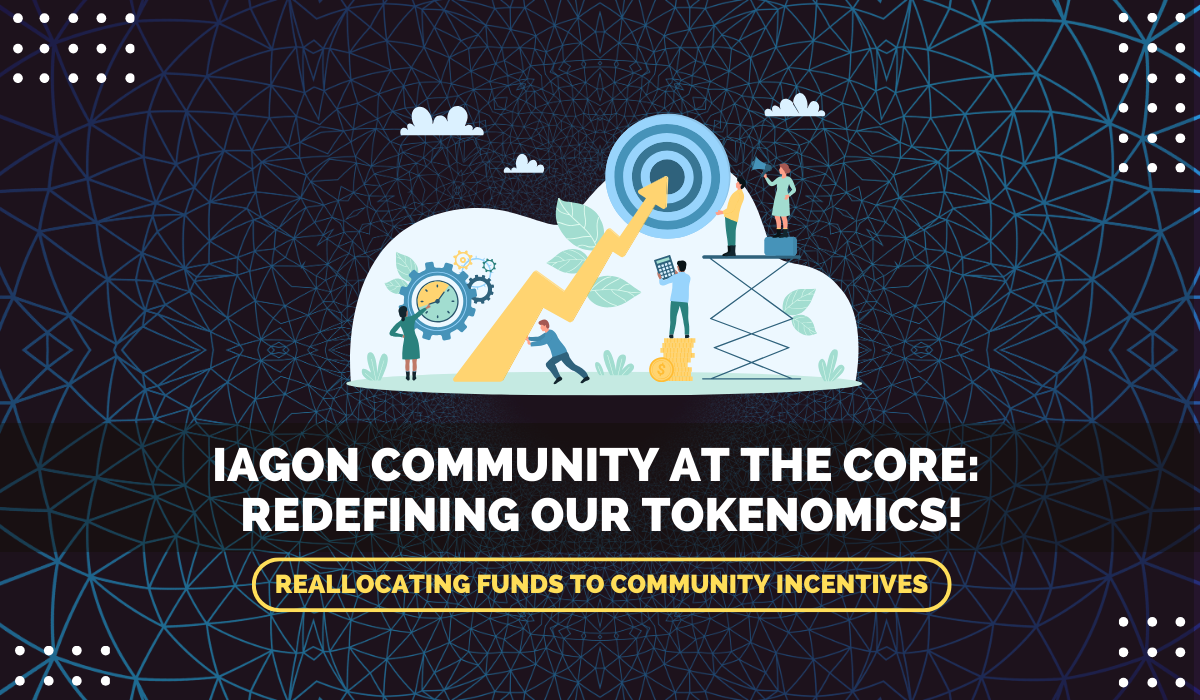 Community at the Core: Redefining Our Tokenomics!
Embracing our community-centric ethos, we're revitalizing our tokenomics by reallocating funds to community incentives.
At Iagon, we've always believed that our community isn't just a part of the project... you ARE the project. In light of this belief, our team has been brewing something special that's bound to infuse our pathway with more collaborative success. We're reimagining our tokenomics to open up new avenues of rewarding YOU – our most valuable asset!
What's Sparkling New? 🚀
Say goodbye to the conventional Ecosystem Development Fund allocation! Instead, we're steering this ship towards more community-centric waters. We believe in the power of shared success, and what better way to ensure that than by directly incentivizing our community members?
The heart of this tokenomic rejuvenation is simple: "More for the Community." This shift isn't just an update; it's our commitment to nurturing a space where everyone thrives together.
Peek at the Updated Tokenomics
In the spirit of unwavering transparency and accountability, our strategy involves the ongoing use of ADA handles, specifically assigned to our various wallets, each earmarked for distinct purposes within our ecosystem.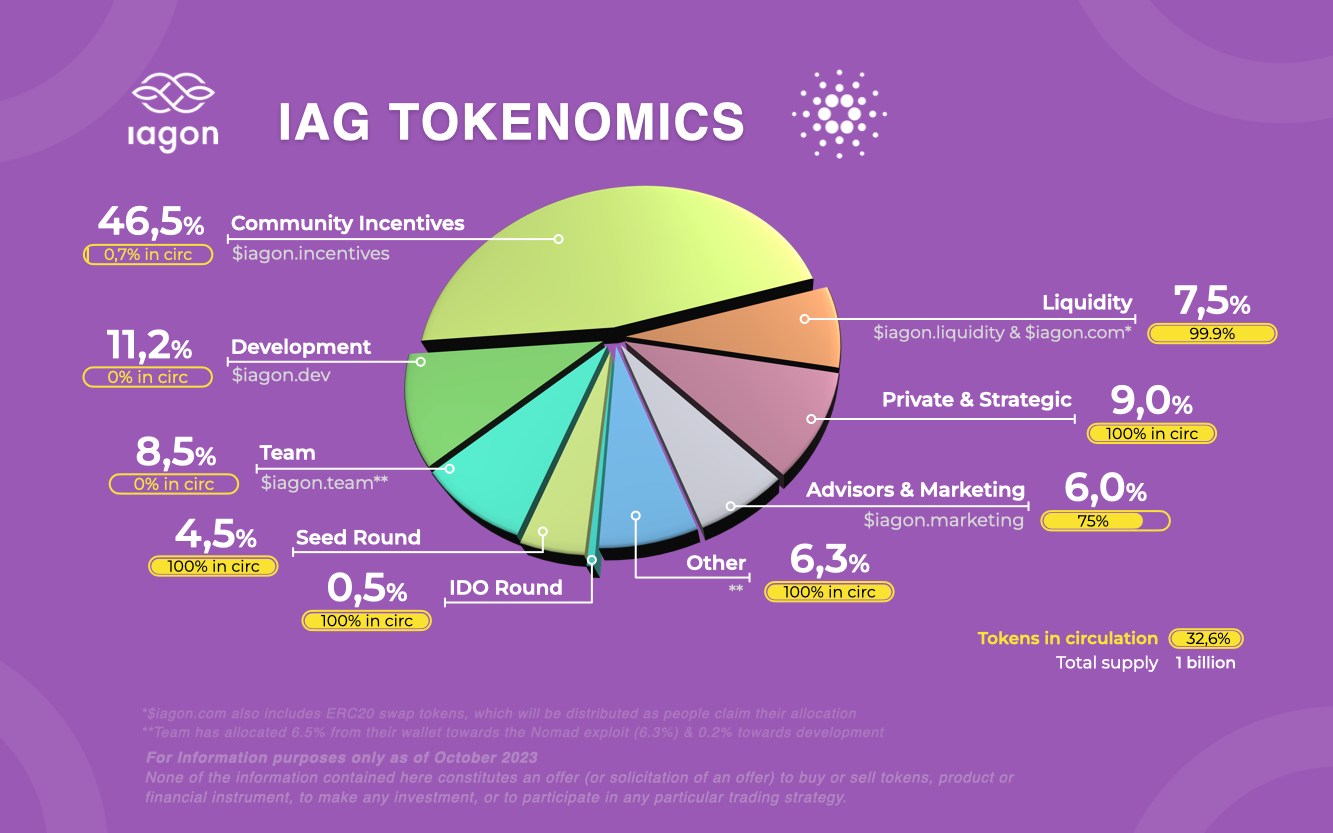 Here is what's new in our tokenomics: :
🔹 Community Incentives - 461mln $IAG ($iagon.incentives)
This wallet is for the community. Ready for mainnet? We are! Community incentives for storage kick off as soon as we are live.
In our strategic planning, we also have allocated specific portions of our funds to vital growth areas within our community.
A substantial 60 million $IAG is earmarked for our referral program, a testament to our belief in the power of community-driven expansion.
Additionally, 30 million has been dedicated to the LSPO (Liquidity Stake Pool Offering) within our Resource Providers Rewards Program, affirming our commitment to enhancing liquidity. This allocation will have 12 months vesting starting April 2024.
In our quest to create an equitable ecosystem, we're thrilled to allocate 100 million tokens for storage providers' staking rewards, set to be distributed over a period of 15 years. Rewards become claimable after 73 epochs of dedicated staking, ensuring a sustained commitment aligns with deserved benefits.
But that's not all! An additional 20 million tokens are earmarked for our innovative 'Storage Provider Hives'. While we're keeping the specifics under wraps for now, rest assured, exciting details will be unveiled soon!
As for the remaining 251 million tokens, they're far from forgotten. These are strategically reserved for future programs like decentralized compute that we'll introduce as our platform evolves. This reserve underscores our commitment to agility and innovation, ensuring we're always ready to harness fresh opportunities for community enrichment and engagement.
🔹 Development - 112mln $IAG ($iagon.dev)
Main purpose of this wallet is a seamless, ongoing project development, ensuring that every avenue is explored for project success. In alignment with our $850k annual expenses, we plan to convert monthly distributions into fiat, with the linear monthly distribution.
Our strategy is set to roll out at the end of October.
🔹 Team - 85mln $IAG ($iagon.team)
This amount is locked until October 2025, post which, it will be distributed over a 6-month period.
Our team believes in long-term commitment to this journey.
🔹 Advisors & Marketing ($iagon.marketing)

This fund, dedicated to marketing and engaging industry advisors, focusing on enhancing product development and reach. Portions of these funds have already been allocated for advisor engagement and collaborative promotional airdrops with partners. These tokens are not locked and are available for flexible, ad hoc use as needed.
Together Towards Tomorrow
Our community is our strength, and these changes signify our trust in the power of collective growth. By realigning our resources, we're not just supporting our project; we're inspiring you, the individuals who make this journey worthwhile.
Stay connected, stay engaged, and let's continue to build this ecosystem – not just as a community but as a family.
With these updates, we're not just envisioning a prosperous future; we're setting the stage for a spectacular community-driven success story!
---
For more information and other updates, please follow us on our social media (links below), or head over to the IAGON Website
Join the newsletter to receive the latest updates in your inbox.