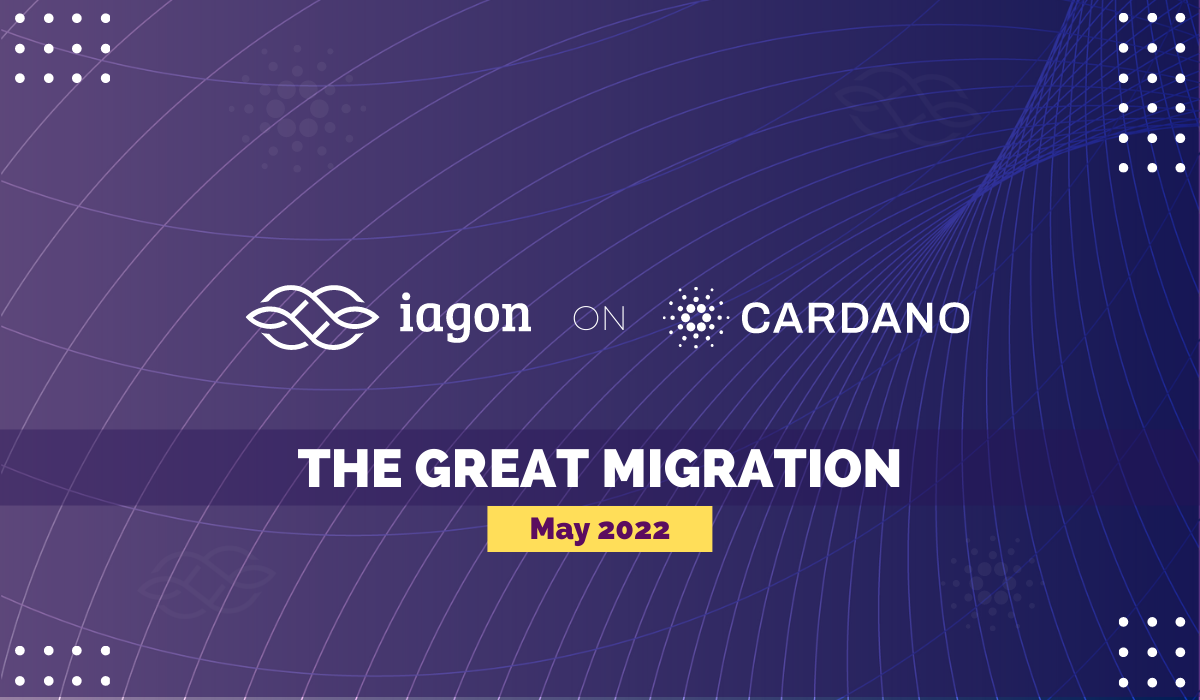 The Great Migration
Iagon on Cardano. Why? Because we believe in it!
Greetings, Cardano community! We're finally where we wanted to be, and we're loving it here. The road was long and the whole migration process was not easy. Our team is still working on the main product, tweaking it to meet the requirements of "the green blockchain". But even though we're settling on Cardano, you can be sure this isn't our last word. We like to dream big at Iagon, so there's a probability we will reach multichain status in the future.
For the time being, let's focus on the present. This article is a summary of our reasons for departing from Ethereum, current progress on Cardano, and future plans.
Sometimes, the grass really is greener
At this point, some of you might be wondering why we decided to move to Cardano in the first place. Well, there are a few advantages, like cost-effectiveness, interoperability, and scalability. And it's called the green blockchain for a reason, right? The Proof-of-Stake consensus mechanism is a true blessing for the industry looking for new ways of cutting down on CO2 emissions.
While we're on the topic of values, let's not forget about the ethos. Cardano is all about empowering people, about making their lives easier. Just think about the initiatives in Africa, like the digital identities for Ethiopian students. At Iagon, we want to have the same kind of impact on people's lives. We want to empower them by giving them control over their own data, guaranteeing privacy and security.
Generally speaking, we believe Cardano is a well-thought-out, carefully designed organism. A lot of research and paperwork has gone into its creation. This kind of approach translates to a strong and stable structure. And perhaps that is what Ethereum is lacking. Trying to fix the flaws that could've simply been avoided might be considered counterproductive. Being built from the ground up, like Cardano, makes much more sense, even if it means slower development.
Milestones  
Ideas are important, but one might argue that actions are more powerful than words. So what have we managed to do so far?
First of all, we have already migrated 50% of our token supply from Ethereum to Cardano. That's 500 million $IAG tokens!
In April, Iagon launched an initial stake pool offering (or ISPO) in partnership with Maestro, a PaaS company. An ISPO is a fundraising mechanism specific to Cardano. Participating delegators can divert staking rewards towards a project of their choice and receive project tokens in return. We decided to add extra 3 million $IAG tokens as rewards for the delegators.
At the beginning of May, Iagon teamed up with Minswap, the first multi-pool decentralized exchange on Cardano, to get our token listed. An $ADA/$IAG pair was created, and Iagon provided liquidity to the platform. However, Minswap is not the only DEX we're collaborating with. We will share more details with you shortly, so stay tuned.
We also decided to launch a Cardano native asset withdrawal on Bitrue, a user-friendly exchange platform for trading, transferring, and storing digital currencies. You can store your CNT and ERC-20 $IAG tokens there and withdraw them in any of these forms whenever you desire.
Iagon plans to incentivize liquidity for the $IAG token by rewarding users who stake in our listed pools on Cardano DEXes and participate in the ISPO. This is why our team is working on a Liquidity Rewards Program mechanism. The program has already been announced, but we want to work on the details with the community, which is why we've reached out to you asking for feedback.
As you may already know, we're getting involved with Genius X and joining their ISPO, scheduled for opening on the 15th of May. The ISPO will use four pools, one of which will be a special co-op pool. Delegators staking in it will be rewarded with both $IAG and $GENSX (at a 50:50 ratio). Plus, Iagon will add extra 2 million $IAG tokens as a bonus for the delegators.
Last but not least, the team is working hard on our token bridge for converting your ERC-20 $IAG tokens to CNT $IAG tokens. It relies on solutions provided by Milkomeda and Nomad. Milkomeda is a Layer 2 protocol leveraging the potential of the brilliant Nomad protocol, supposed to make cross-chain communication considerably faster and cheaper. We want the bridge UI to be as safe and user-friendly as possible, so we'll run a bug bounty program. Just like in the case of the liquidity rewards mechanism, we are counting on our community and their expertise.
What's next?
As you can see, Iagon has put a lot of effort into moving from Ethereum to Cardano. We're not resting on our laurels yet, as many challenges still lie ahead. Iagon's flagship product is in constant development and various tests are performed. The team is fine tuning it so that it is ready for the new UI and implementation of solutions delivered by potential partners.
When will it be ready, though? Good news! We expect to launch the Iagon shared storage around the end of Q2 or the beginning of Q3. Not that long, right? This is an exciting time for Iagon. Lots of pressure and hard work are involved, but we are certain the reward waiting at the end of the road is worth it.
You can be sure Iagon will not simply get the platform going and forget about it. That is not our style. The team will be continuously evaluating its performance, tweaking it, and trying to come up with new ways of making it better. Not only just the storage platform, the whole Cardano ecosystem! So that you, our users, make the best of it.

For more information and other updates, please follow us on our social media (links below) or head over to the IAGON Website!
About Iagon
Iagon is on a mission to revolutionize the cloud by developing storage and processing platforms where anyone can profit from shared resources. The whole value proposition circles back to the potential of blockchain technology by letting device owners join the storage and processing power grids to create a completely decentralized data cloud and supercomputer.
Website | Twitter | Telegram | Blog | CoinGecko | CoinMarketCap
Join the newsletter to receive the latest updates in your inbox.