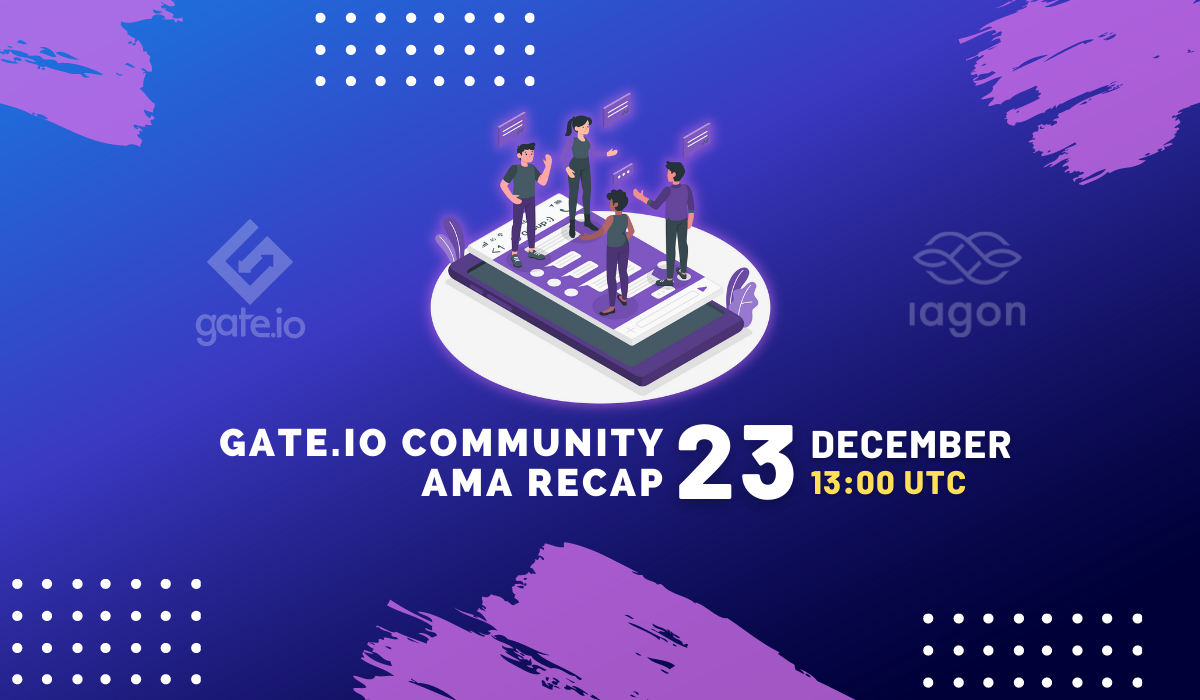 Gate.io Community AMA Recap
Check more questions & answers from the Gate.io Community AMA with the CEO of Iagon, moderated by Gate.io BDM Mariela Tanchez on Dec23th 2021.
On December 23rd, 2021, we participated in the Gate.io Community AMA on telegram with almost 90k active members.  It was moderated by Gate.io BDM Mariela Tanchez who asked Navjit Dhaliwal, CEO at Iagon,  about project development and traction, followed by a fantastic community driven questions session.
We are always happy to tell you about everything we do, and therefore we invite you to familiarize yourself with a detailed overview of the discussion.
Questions Session from Mariela Tanchez, Gate.io BDM

👉 Tell us about how you entered the crypto space and how your background contributed to your early successes

💬  Navjit Dhaliwal:
I came into the space in about 2013. I'm from the healthcare industry. I'm a healthcare professional, but I took programming in high school (c++). So I was into, let's say, innovative technology and constantly reading, trying to update myself on new tech as well.  So I came across a Bitcoin paper in 2013. It took a few reasons before I understood the generic concept, and well, it was a product at that time. And then I started reading it, understanding it, and I understood the technology of blockchain around it and trying to imply that in my industry is the healthcare industry.
So I try to imply that into health care records, patient data, patient privacy. So securing patient data with, let's say, blockchain as a security layer and also building around compliance. Right. Which is a big issue today in GDPR. It was not as big back then, but now it's getting much more critical for worldwide industries.
I didn't re-approach the idea until 2017. And that's when there were a lot of other players that were doing something similar, but in a more generic sense, like Filecoin storage, SIA coin, for example, these guys or these projects were doing something similar, but more generically, so as not to reinvent the same thing. And many projects do that, and they mix and match and try to come up with something to work around the solution.  We wanted to create something new.
We're trying to create some real-world scenarios here where we can use this as a fundamental tool to protect data and adhere to compliance.
---
👉  So let's dive more into the project, what is your project exactly and can you tell us more about your vision?

💬  Navjit Dhaliwal:
Sure, Iagon is the first shared storage economy that bridges decentralisation with regulation, enabling us to target enterprise clients for Web 3.0.
We have grants via Innovation Norway, which is government funded  and closed a 3.6 million USD funding round in July.
We are headed by 4 PHDs that are experts in decentralized computing, AI, cloud computing architecture and business development. We have recently expanded our team to 19 people and are in the process of opening offices in Poland and Australia.
The vision is to create a decentralized and compliant storage/computing solution for Web 3.0.
---
👉  What are some of the major milestones you guys have hit so far and why are they important?
Nowadays, we have started our MVP Demo On Cardano & Test For Our Selected Partners. We are getting really great feedback from them. We are however long term planning on shifting to cross-chain, including Polygon.
We have also presented the MVP to one of the biggest data centre providers in the world, they loved it.
Milestones achieved:
👉 Government Grants from Innovation Norway
👉 Approved by Norway Skattefunn For Tax incentives (Norwegian Government Program)
👉 Iagon Patent Published Internationally
👉 POC Storage Testnet Released On Ethereum
👉  Cardano Summit - Agora Public File System Announced
👉  Iagon Patent Published in EU
👉  Encryption Implemented
👉  Utility/Rewards model for IAG holders

Our next steps:
👉  Nodes-open source for enterprise resource providers
👉 MVP Alpha Test for Private Users, planned for January, you guys are welcome to apply, there will be post on this
👉 New UI Network Explorer MVP
👉 Beta Test for Public Users, planned for end of Q1, beginning of Q2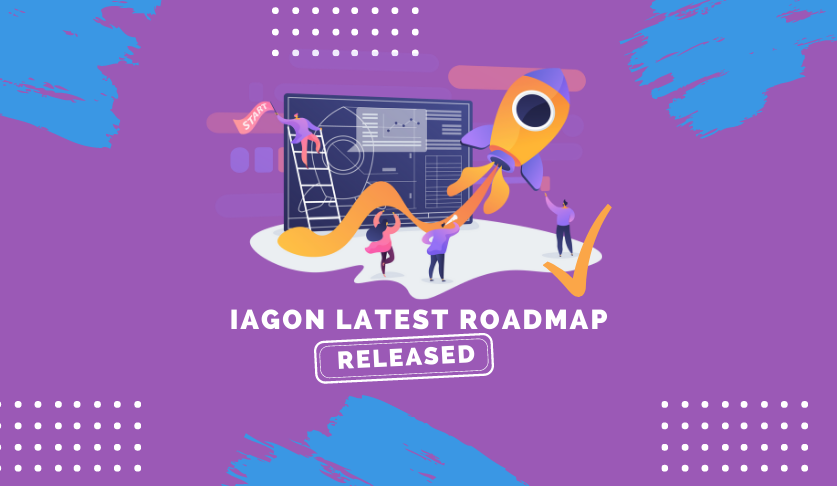 ---
👉 And how about the tokenomics? Tell us more about the tokenomics behind the project

💬  Navjit Dhaliwal:
The $IAG token powers IAGON's Shared Storage Economy Ecosystem. It's an ERC-20 token for now with the plan to be adopted for Cardano blockchain as well.
The $IAG token represents a 'share' in the IAGON ecosystem, providing holders with a portion of the revenue generated through the decentralised storage marketplace.
$IAG tokens give you access to a passive revenue stream and multiple utilities, which is why they can be potentially valuable:
✅  Commit Storage to earn fees in stable coins and get additional rewards in $IAG as a resource provider
✅ Stake $IAG to earn a portion of the transaction fees from the decentralized storage marketplace
✅ Delegate to Iagon's Cardano Staking Pool to get $IAG rewards as an ADA holders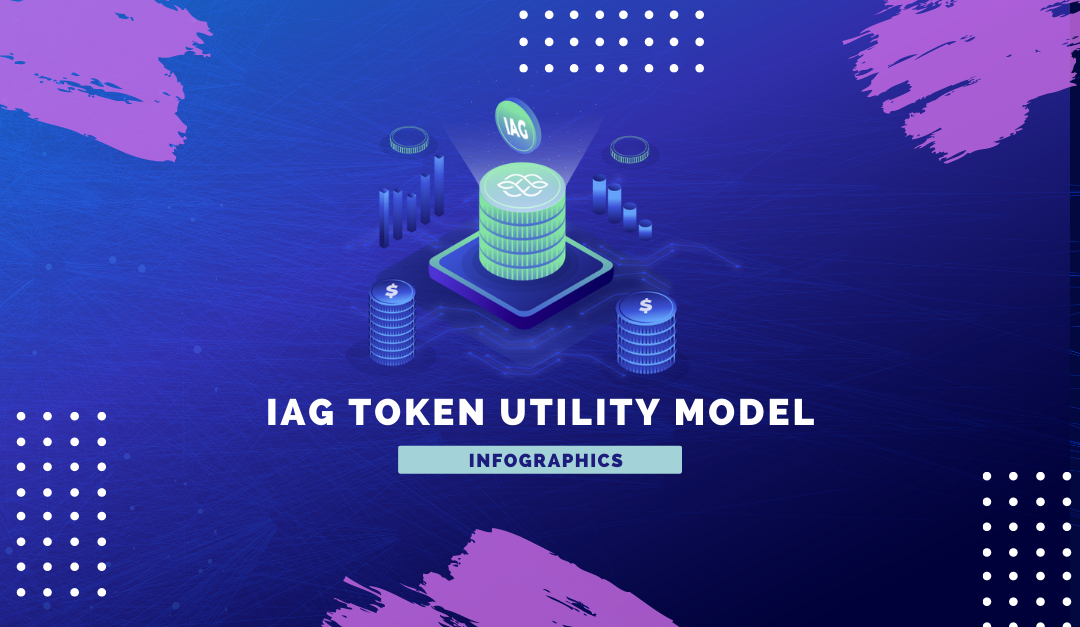 ---
👉  Can you tell us more about your business model
The business model can be tied into tokenomics, so I will take this time to address competitors.
First I want to emphasise that competition is healthy for innovation and growth. And there will be more than one that succeeds. There are a few things however, that we want to stand out from the competitors, and we do believe that competitors also motivate each other. So there is a competition, but they're also working in the same space together.
Many competitors are doing sharding files and then spreading them across the resource providers. They're allocating their idle resources like storage or compute, but they're doing the allocation randomly.  This does not comply with regulatory bodies around the world.
So what makes us different is we have a decentralized, autonomous marketplace, which means that we're learning the behaviour of each resource provider. So we're learning the behaviour in terms of their performance, availability, trustability, location and different factors.
We can also include IP location, which is essential for compliance. So if you want to be GDPR compliant as an end-user, we can match you with providers in the EU. Even though we do it randomly, we do it in a specific manner that the end-user requires.
We're focusing on GDPR compliance initially because we're located in Norway, and that's the initial idea to focus on that but eventually lead to other compliances. So while different countries have different compliances, we want to adhere to those compliances, and those regulatory compliance aren't going anywhere.
So if users need to be GDPR compliant and have a high performance, we only allocate to those resource providers that provide these variables. So that's how we differentiate between the competitors. And of course, since we put a lot of our own time and energy and our own funding into the project, we have patented our technology.
The patent gives us a distinct advantage over all competitors within the Web 3.0 storage/computing space.
Community Driven Questions

👉 @Sinandemirci09
What is the ambassador program?

💬  Navjit Dhaliwal:
No finalized information yet on the ambassador program but we are working on one. We plan to announce it next month in Jan '2022.
---
👉 @SerkanAtas1
How can Iagon be useful for the NFTs industry? Store data or secure NFT tokens?

💬  Navjit Dhaliwal:
Many of the NFTs are stored centralised, which means that NFTs can be stolen. We are working on decentralized storage for web3, which includes NFTs.
---
👉   @Sallubtc
Nowadays, it seems like Metaverse, Web3 or Gamefi get the most attention from investors, what do you think? What can you do to attract the investors?

💬  Navjit Dhaliwal:
Definitely, our recent partnership with NetVRk (metaverse project) shows the direction that we are heading in. Decentralized storage/compute for web3 projects is our go to market strategy. We will be providing an API for these projects, providing a more secure, private solution.
---
👉  @shuixian13
Many projects have problems with UI / UX and this one turns off new users. How do you plan to improve the interaction with new users and with users outside the crypto space?

💬  Navjit Dhaliwal:
Completely agree! One of the advantages we forgot to highlight is the ease of use. We want to make sure we limit the adoption curve and the platform is easy to use. It is one of the biggest problems within the space that hasn't been fixed, although some projects have been better at it. This will be a priority for us, simple for non techies and adjustable for techies.
---
👉  @Lucky_Star_1704
Who are the IAGON ecosystem stakeholders and what mechanism has IAGON put in place to help ensure that all these stakeholders participating in the protocol jointly maintain the normal operation of the protocol?

💬  Navjit Dhaliwal:
We use proof of utilitarian models, meaning we learn the behaviour of the resource providers in terms of different variables. These variables include but are not limited to performance, availability, trustability …etc. These variables collectively give the resource provider a score and based on the score and the end users needs they are matched.
---
👉 @Zackary_jolly_1992
My question is about your long term marketing plans. How, or through which big partnerships do you plan on utilising to pass your product onto the normal - especially non-crypto people?

💬  Navjit Dhaliwal:
We are finalising a partnership with one of the biggest data centre providers in the world, this will be a big announcement and we plan to spread this news well. Since this partner is in the traditional space, they will also help us market through mainstream media.

It needs to be noted that you dropped a long list of questions so feel free to check this article again in a while. We will update this list with new answers to your questions very shortly.  
---
We want to thank Mariela Tanchez and the Gate.io community for hosting the AMA. It was a pleasure to have a chat with you guys.

Please follow us on social media and feel free to drop any questions you may have about the project directly in the telegram group. Our team is always open to discussions.
Join the newsletter to receive the latest updates in your inbox.